We were now on the home stretch.  Just one more day/night shoot with Ms. Karr and it was a wrap!  Don't lose it now, everyone stay focused.  I wanted a couple of shots of Trish walking down Darlinghursts' Oxford Street and a re-enactment of that first meeting from where this all began, The Colombian.   But first, since Trish lives in a different 'time zone' to me, I decided to capture the electric buzz of Sydney by night.  Mark and I jumped in a cab armed with his Canon 5D Mark III, a box of lenses and a seriously absurdly expensive tripod.   It would have been remiss of me to make a film in Sydney and not include its harbour.  It has all been done before of course, but at night?  So while Trish prepared her makeup and hair, we photographed every landmark in a 5k radius.  The Canon 5D proved perfect and we had no trouble matching later in post.
With some truly awesome pictures in the can, we returned to Oxford Street around 10.30pm.  In an attempt to minimize hassles over release forms, we posted a notice on social media for a Trishy Dishy rent-a-crowd and everyone, including Trish, was waiting for our return.  The shoot went brilliantly and we wrapped bang on midnight having captured the insatiable vibe that Trish leaves in her wake wherever she goes.
I told Trish to go home, get a good night sleep and we'd be at her place at 08.30 for the final stroll in the park with her dog Kandi and her husband Johnny.   Too easy!
I knew something was not as it should be the moment I pulled up outside Trish's.  Mark as usual was already setting up.  I could smell sausages cooking on the BBQ, wafting down the street and I could see their front patio obstructed by large, full, black bin liners.  This was not usual!  Clearly someone had been up at the crack of dawn ensuring the house looked immaculate.  But why … we weren't shooting at the house!  The ever-chirpy Johnny warmly welcomed us at the door beckoning us towards the rear spotless patio, where enough sausages had been cooking to feed the crew of Ben-Hur.  "Where's Trish?"  "Want a drink, beer, coffee, tea?"  "Coffee, thanks, where's Trish?"  In typical Aussie fashion, "all good, she's just walked in"  "Just walked in!!"  Okay, sure, we were a tad early, it was only 8am but Trish had only just now returned from the previous nights shoot.  I knew right then, if Trish's head hit that pillow, I was doomed.
Not sure what a bull racing up the stairs in a china shop would actually look like, but I reckon my impersonation wasn't too far away!  Trish's head was about to hit that ever-so comfy, beckoning pillow when I yanked it from reach, suggesting, very calmly, that she shower, apply fresh make-up, put on something casual and meet us downstairs as soon as possible, for a nice relaxing walk.
Frankly it was the fresh make-up request which irritated Trish the most.  For she had spent a small fortune hiring a professional make-up artist to apply expensive eyelashes on her for the previous nights shoot which she didn't now want to take off.  But this of course would have caused me obvious continuity issues.  Fresh make up it was then.
I had mentioned to Johnny, time allowing I'd like to grab a couple of shots of him with the children.  Well … time allowed, in fact it was two hours!
Unlike the good old days of shooting a film from scavenged s16mm or 35mm ends, this was only 'memory space' so I decided we may as well set Johnny up, cooking his already overcooked sausages and just let him chat.  One word: awesome!  Johnny talked of how he and Trish had first met, the parties, the breast cancer, the religion, everything.  And it was gold.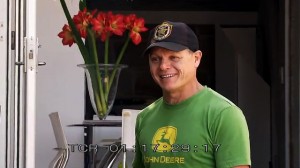 Not only that, I saved a dollar or two of the catering budget … albeit, lunch was 'sausage with sauce' or 'sausage no sauce!'
Revitalised, refuelled and gear packed away, Trish bounces down the stairs looking remarkably refreshed.  "C'mon you ****ers, let's finish this film."
We'd deliberately chosen a grassed area alongside the harbour wall, with the Sydney Harbour Bridge in the background.  En-route Trish allowed her dog  Kandi to run free.   It didn't occur to me to suggest a change of wardrobe.  Why should it?  We'd already done a wardrobe check back at the house and all I required was a shot of Trish and Johnny walking lovingly beside the waters edge.  But I failed to plan for every eventuality!
There we were walking along just chatting about the previous night's shoot when all of a sudden Trish yells "Kandi" and we all turn to see what appears to be the tail of a dog disappear over a large sandstone wall.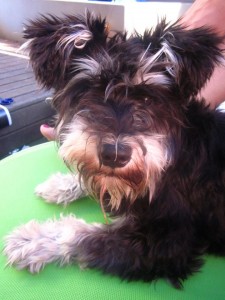 Yes, that was the day Kandi decided to see whether she could swim!  But why not a pond, a swimming pool?  Why did Kandi have to choose the Sydney Harbour?  "She can't swim" yelled Trish.  "Johnny, you'll have to jump in after her."  "Are you kidding me!"  Without even hesitating, Johnny throws himself over the wall and into the cold, deep water below.  He grabs the dog and hands her up to a panicked Trish.  Kandi was fine, shaken, but just fine.  Johnny on the other hand, clambering back over the wall … was completely soaked!   Bloody good swimmer mind, but soaked!!
Now we could have returned to Trish's for a change of clothing but we were, by now, already some 4 hours behind schedule and Johnny in his customary, cool, calm, collected manner was game to just carry on.  What a sport!  The shot worked well and the only thing anyone might actually notice is that Johnny's slightly darker than normal jeans!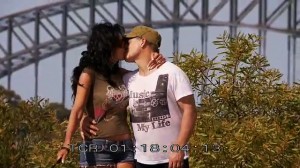 A stressful day/nighter but it was indeed a wrap.